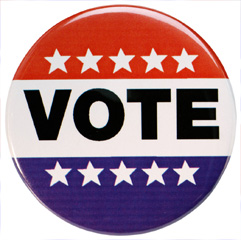 Election Day is Tuesday, April 4, 2017
Polls are open 6am to 7pm.
Early voting starts March 20, 2017 and continues until April 3, 2017. See below for hours and locations.
On the ballot will be candidates for City Council, Park District, School District and Township offices.
Where to Vote
Everything you need to know about voting is here – including where, when, and how, as well as your rights. You can find the location of your polling place and verify your registration here.  More information on voter registration, early voting, and voting by mail can be found here. Any registered voter may vote early, vote by mail or vote on election day. You may choose only one of these options to cast your vote.
Early Voting
Early voting runs from March 20 through April 3. You can vote early at the Highland Park Police Station, 1677 Old Deerfield Road in Highland Park from March 20 through April 1, Monday – Friday 9 am – 5 pm and Saturday 9 am – 2 pm. During early voting, you can vote at any of the early voting locations in Lake County. Addresses and hours of these sites are here.
Mail-in Voting
Any registered voter may vote by mail. More information on how to receive a ballot is here.  You can contact the Voting by Mail department by email at VotingByMail@lakecountyil.gov or call (847) 377-2406.
How to register to Vote
You can register to vote in person at Highland Park City Hall, 1707 St. John's Avenue (call (847) 432-0800 for hours) or the Moraine Township Office, 777 Central Avenue (call (847) 432-3240 for hours). You may check your registration or register online using the application available here.