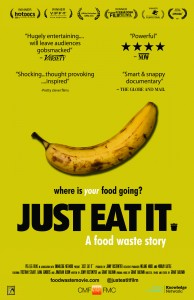 Food waste is the one of the hot environmental issues of 2016. We throw away over 40% of our food in the US. In addition to the waste of food and the energy used to produce it, organic matter that ends up in  landfills gives off methane, a potent greenhouse gas.
You can learn more on April 18 at 7 pm at the Highland Park Public Library screening of Just Eat It. An entertaining film that explores the issue of waste from farm, through retail, to home. After catching a glimpse of the billions of dollars of good food that is tossed each year in North America, the filmmakers pledge to survive only on foods that would otherwise be thrown away. In a nation where one in 10 people is food insecure, the images they capture of squandered groceries are both shocking and strangely compelling.
The film is free and open to the public.  I hope to see you there!